ACS ultra-high resolution Holter recorders have been designed to maximize patient comfort without sacrificing quality. The Holter Performer™ Series Holter monitors samples in ranges of 1,000 – 4,000 samples per seconds. This allows ACS to reproduce Ultra-High Resolution ECG in a lightweight, compact design. Ultra-High Resolution ECG makes it possible to record true pacer artifact, diagnose pacer function or malfunction, and verify pathological ST-Segment changes.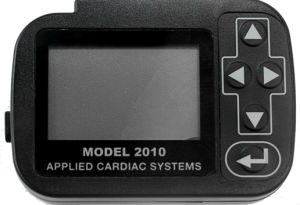 The ACS Holter Performer Model 2010 is a small & reliable Holter monitor with some additional recording capability from the previous model 2003. This monitor shows ECG on screen and it can record up to 5 days of continuous ECG.
The Performer Plus™ monitor is the smallest & most versatile monitor ever provided by ACS. The Performer Plus can function as a 1-5 day Holter Monitor  or as a  30 Day Cardiac Event Monitor.
 EZecg Patch
The EZecg Patch is the newest wearable ambulatory ECG Patch monitor to hit the market in 2019. The EZecg Patch has no leads, no batteries and is water resistant for improved patient compliance. The EZecg Patch is worn for a 3 – 7 days.
​The Holter Monitors from ACS utilizes cost effective & reliable methods to record continuous ECG.  The ACS Holter Performer series offers flexible recording formats and easily to input patient programmable data. Eliminate the recording of artifact in your Holter Monitoring studies for either 1-3 channel recordings. You can now verify signal strength and hook-up quality with each monitor, minimizing unnecessary artifact before the patient leaves your facility. And with the simple push of the event button, you can easily correlate a patients' symptom with a cardiac event.